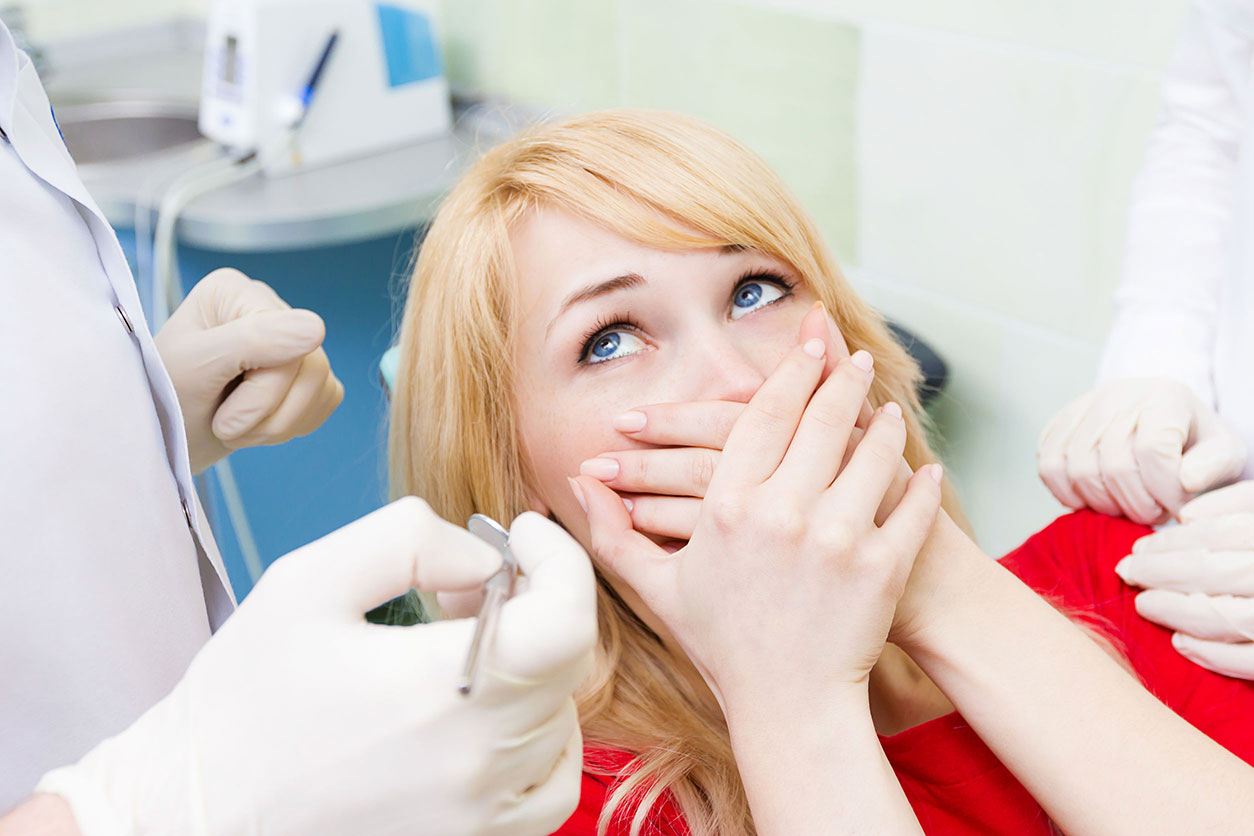 Don't be afraid of the dentist anymore
Anxiety management
Who doesn't know that little pinch in the stomach just before going to the dentist? Approximately 30% of the population reports feeling apprehensive before going to the dentist. Traumatic experiences in childhood are sometimes at the root of this phobia, which can manifest itself through accelerated heartbeats, sweating, high heart rate, but also through insomnia the night before the appointment.
But the phobia of the dentist is often a primitive, inexplicable fear. The fact that today's dentist "no longer hurts" is often of little help to those affected by this phenomenon, who are often not taken seriously with their anxiety.
The vehement refusal, linked to this apprehension, to go to the dentist can have catastrophic consequences on the dental condition as well as on the general physical and psychic state.
Treatment of anxious patients
In our practice, we offer special treatment methods that are tailored to the needs of these patients and which have proven their worth.
We have two objectives when treating phobic patients:
to achieve optimal dental cleansing of the patient without stress or anxiety.
overcome the patient's fear and suppress it in a lasting way.
To achieve this goal, we have been using a strategy for several years that has proven to be very effective and focuses on the following themes: confidence building, lack of stimulation, gentle and stress-free treatments, interactive discussion of sessions
Confidence building
Many of the dentist's phobic patients report that in the past they have been traumatized by a breakdown in trust with the dentist. This situation can go back several years, following treatment by an insensitive or brutal dentist. A promise made lightly by the dentist ("it's not going to hurt..."), and then not kept, can destroy trust and ultimately be traumatic.
We therefore understood that the dental treatment of anxious patients could only succeed if the patient had full confidence in his practitioner and his team. He expects not only a job well done, but also clear and reliable information about the treatment, and some attention, patience and understanding for the anxiety he feels.
Thus, despite the hectic pace of the practice's daily routine, our team has a high level of patience, is armed with the necessary psychological tools, and has acquired with experience a great deal of intuition to grasp the patient's anxieties and thereby gain his confidence.
Lack of stimulation
Due to past experiences, the dental practice represents a risky place for the anxious patient: we therefore take adequate precautions to minimize anxiety-provoking stimuli :
Our cabinets are bright, spacious and bathed in light. Noise pollution from the practice as well as conventional odours are avoided in the waiting area.
We make every effort to be punctual and thus reduce anxiety-inducing waiting times as much as possible. We have a varied and renewed reading to distract the patient.
Gentle and stress-free treatments
Gentle, pain-free treatment should be a matter of course today, and not only for anxious patients.
The effectiveness of local anaesthesia has progressed so much that dental treatments, such as heavier procedures, can be performed absolutely painlessly. An anaesthesia technique and equipment adapted to each situation allows for rapid and satisfactory results in all cases, minimising the pain of needle insertion as much as possible.
Our staff are trained to perform "gentle" treatments and are sensitive enough to recognize patients' needs in time, for example when the patient wants to take a break during treatment or rinse their mouth.